Finding a Career in the Welding Industry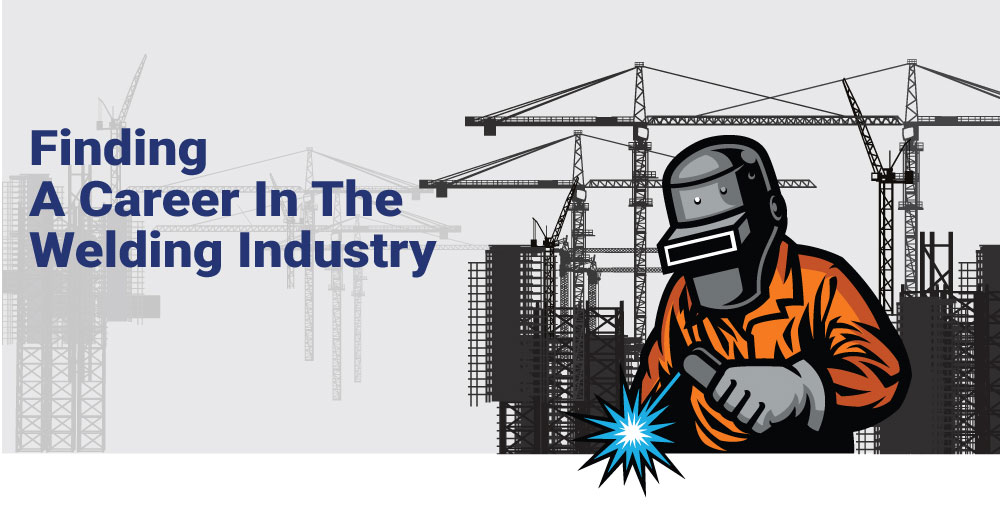 How you make a living has a significant impact on your lifestyle, wealth, and sense of well-being. It can be a challenge finding the right niche for your talents, and often you might not feel you have specific talents to provide a fulfilling career. However, you can create your path by choosing the right training to open the doors of opportunity. If you are uncertain where you would like your career to take you, welding could be the perfect choice for you. Many people are unaware that skilled welders can earn an excellent salary. As well, welding can lead you down many different, exciting roads, including the chance to travel and live in almost any area of the world you choose. Whether you are looking for a new career in your own backyard, or have your sights set on more exotic climes, welding offers stable employment and an unexpected list of possibilities for you and your career.

What is Welding?
Welding is a skill used in construction and manufacturing, applying heat to weld metal or thermoplastic materials together. It is a certified trade that requires training, which can lead to opportunities in many different industries. In fact, over 50% of all human-made products are made by welders. About 60% of welders, cutters, solderers and brazers work in the manufacturing sector and 5% in the repair and maintenance field.
How Can I Become a Welder?
If you are interested in pursuing a career as a welder, you will first need to obtain your welding certification by attending an accredited vocational school. It takes about seven months and costs from $5000 to $15000 to become a fully certified welding technician. There are nine different types of welding certifications that can provide a highly respectable income from $35 to $50 an hour. Most jobs are found in the manufacturing industry. You can expect to start earning about $32,175 per year when you graduate, and as you progress can quickly more than double that salary to as much as $68,563 as you gain experience. Those with many years of experience can earn up to $94,712.
Where You Can Work
As mentioned, there are endless possibilities when you pursue a career in welding. Some of the most common industries offering lucrative positions include:
Nuclear power
Aerospace
Petrochemical
Mining
Manufacturing
Transportation
Nautical fabrication and repair
Construction
Energy such as oil and gas or wind turbine
Pipelines
You can start out "where the jobs are" and then as you grow your skills and experience, choose the area that interests you most.
Welding Job Titles
As a welder, there are several different job titles, each dependent on the sector and job role you provide. Some of the most common job titles you might have include:
Aircraft Welder: In this role, you are responsible for the manufacture and repair of airplanes, jets, and helicopters in the aircraft industry.
Fabrication Welder: As a fabricator, your job focuses on fusing metal parts, typically in a manufacturing facility.
Pipe Welder: Pipe welders repair and build piping systems with welding equipment using measuring, cutting, and welding tools to cut and lath metal materials for repairs and new projects.
Sanitation Welder (Food & Pharmaceutical Industry): Sanitation welders assemble and repair metal structures commonly used in the collection and disposal of waste. These include dumpsters, hydraulic systems and sanitation trucks applying a variety of welding techniques such as ARC, TIGor and MIG welding.
Structural Steel Welder: In this role, you would most commonly use either stick welding and self-shielded flux-care (FCAW-S) for structural steel applications in the field, or gas shielded-flux-care (FCAW-G) and submerged arc welding (SAW) for indoor structural steel welding.
Tool and Die Welder: Tool and die makers set up and operate a variety of computer-controlled machine tools producing precision metal parts, instruments, and tools.
You can choose the role that offers the most opportunity for your career goals.
Management Opportunities
As with any trade, you can find yourself looking towards advancement in your field. Excellent opportunities lie in becoming a Welding Inspector. In this role, you are responsible for overseeing all welding staff's activities and duties at your organization. It is your job to ensure proper working procedures are in place, and you might even be involved in writing policies from safety to quality control. A welding inspector ensures that the welders are using best practices on the job and that all projections and assignments are completed using the highest quality processes within the set deadline.
Types of Welding Certifications
There are five types of welding certifications available. In some cases, you might be requested to complete a specific type of certification by your employer, or you might choose to pursue certifications based on your own goals. The certifications include:
CWB: The Canadian Welding Bureau is a certification and registration organization for companies involved in the welding of steel structures.
TSSA: The Technical Standards & Safety Authority administers the certification of occupations regulated under the Act and helps ensure all certification programs are responsive to industry needs through a Training and Certification Advisory Board (TCAB)
AWS: The AWS Certified Welder program is valuable to individuals just entering the industry. This certification shows prospective employers that welders have the knowledge to complete procedures up to code and specification.
I-CAR: I-CAR certified individuals have achieved and maintained a certain level of training and excellence with collision repair.
ASME: An ASME certification signifies that you or your company is committed to public safety and quality.
The Future of Welding
Many people interested in trades worry their futures are at risk due to progressing technology in their industry. However, when it comes to welding, there is nothing but opportunity and growth. The global welding market size is slated to reach USD 48.16 billion by 2026. Although automation in welding is a sure thing, it only stands to escalate sales opportunities. As a result, welders will become higher in demand with more job opportunities opening up. Because demand will continue to grow, future welders will be trained to operate robots and other automated systems using highly productive welding processes instead of becoming obsolete.
If you would like more information on becoming a welder, click here to view the courses available at Weldtech Training.