Individual Welding Courses And Certification in Canada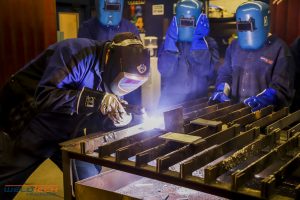 Discover Our Individual Welding Courses
Our individual welding courses are designed uniquely for your career goals no matter what industry you are looking to enter or what welding process you're looking to learn. From automotive, construction, aerospace, fabrication we will tailor the program for you.
Each of our senior instructors is CWB, TSSA, AWS certified and our Senior Instructors are Journeymen Red Seal Welders. This means you'll be able to depend on our Weldtech for a level of training that is unparalleled across the welding industry.
How We're Different
At Weldtech we take a different approach from what colleges and other schools in the industry do.
Step 1 – We listen to you. By listening to you we learn what your objectives are and how we can customize our courses to meet your needs. An important step is meeting the instructors that will be teaching you and learn the process on how we teach.
By Knowing you objectives we can provide career planning where do you see yourself in the welding field? Not to sure. Don't worry that how our instructors can help when we meet with you.
Step 2 – Once we know your needs we will reverse engineer a program specifically for you. Meeting the needs necessary for the field of study and the welding industry.
Step 3 – Once your ready to start your exciting Welding Career it as easy as clicking below or calling us at (905) 567-1388.
Whether you are looking for skills up-grading, testing, or long term training to obtain a career in the welding field we are there for YOU because YOUR SUCCESS IS OUR SUCCESS!
Our Course Objective
The objective in offering our individual welding courses and customized welding training is to ensure that you have access to the required skills to access lucrative positions in the welding industry. The course will also benefit students because class sizes are kept down to a minimum. This means that each student gets as much time as possible alongside the instructor and can learn within a supportive and focused learning environment.
The training hours within our courses are also designed to be flexible. And so you're never kept away from important duties while fine-tuning your welding skills. We offer training according to your schedule and your demands.
Our Course Content
Courses include the following options:
SMAW (Stick) Welding Program
GMAW (Mig) Welding Program (Choose Mild, Stainless, or Aluminum)
MCAW (Metal-Core) Welding Program
Ready to book an upcoming course? Call our training experts today to learn more about the full range of course options.