G.T.A.W. (Tig) Tool & Die Welding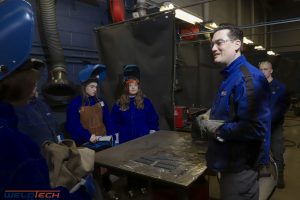 Course Objective:
This program is designed to introduce and upgrade Tool Makers , Mold Maker, skilled trades persons, welders, supervisors, and others in the industry, to the proper techniques and theory based knowledge using the G.T.A.W. ( Tig ) and S.M.A.W. ( Stick ) welding process on Tool Steels and Cast Iron Dies. At the conclusion of this course trainees will demonstrate new and or improved skills using the Tig and Stick process on various tool steels and cast iron die that are relevant to their company needs.
Trainees will learn to operate Oxy-Fuel cutting equipment in a safe and efficient manner when preheating materials.
Course Content:
Health and Safety for arc welding & cutting.
Proper Operating Procedures for Oxy-Fuel, Plasma, and or Carbon Arc Gouging and cutting equipment.
GTAW (TIG) & SMAW (Stick) Theory Fundamentals
Welding Machine Fundamentals
Tool & Die / Cast Iron Theory
Material Identification & Preparation
Filler Wire/Electrode Selection
Metallurgy
Weld Faults (Causes and Cures)
GTAW (TIG) & SMAW (Stick) Welding Techniques on Tool and Cast Dies
Evaluation Methods:
A theory and practical welding test is given, in which 70% is required to pass. Weldtech certificate awarded to successful trainees.
Course Duration:
Five days (8:00 AM – 3:30 PM) 37.5hr
This program does not require approval under the Private Career Colleges Act, 2005.