TSSA Pressure Vessel Pipe Welding Program (G.T.A.W. / S.M.A.W.)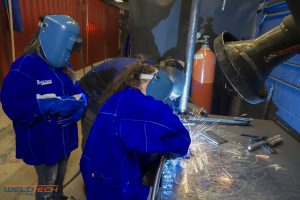 Course Objective:
This program is designed for skilled trades persons, technicians, apprentices and others in the industry who have completed Level 1 or 2 or have on the job welding experience or previous welding tickets. This course will teach trainees the proper techniques and theory based knowledge using the G.T.A.W. ( TIG ) & S.M.A.W. ( Stick ) processes on Pressure Vessels preparing them for TSSA certification to the ASME IX welding code. At the conclusion of this course trainees will demonstrate new and or improved skills using the G.T.A.W. ( TIG ) & S.M.A.W. (Stick) processes in all positions (1G, 2G, 5G, 6G) on pipe using ER70S-2 root and E7018 fill. Trainees will learn to Oxy-Fuel and or Plasma cut in a safe and efficient manner.
Course Content:
Health and Safety for arc welding & cutting.
Proper Operating Procedures for Oxy-Fuel, Plasma, and or Carbon Arc Gouging and cutting equipment.
Review of GTAW (TIG) & SMAW (Stick) Theory Fundamentals – Welding Machine Fundamentals – Electrode Selection – Weld Faults (Causes and Cures)
Requirements of current standards for High Pressure Welding.
Practical techniques for preparing pipe for industry and testing.
GTAW (TIG) & SMAW (Stick) Welding Techniques for Pressure Vessel Pipe Welding in All Positions. 1G, 2G, 5G, 6G on mild steel pipe 2" sch 80.
Evaluation Methods:
A theory and practical welding test is given, in which 70% is required to pass. Weldtech certificate awarded to successful trainees.
This program does not require approval under the Private Career Colleges Act, 2005.